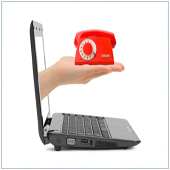 Skype is the most well-known Voice over Internet Protocol (VoIP) program and is used by businesses all over the world. It offers many benefits including cheaper calls, a solid instant messaging platform that allows employees to communicate as a group, and the ability to conduct video calls with any user.
Skype has some excellent features but many businesses stick to the basics. Here are four ways you can better utilize Skype.
Call forwarding. If you're expecting an important call but have to step away from the computer for a bit you can forward any calls to your phone. To set up call forwarding: open preferences and select Calls. You will see the option to set up call forwarding at the top of the page. Press the Forward calls radio followed by Set up Forwarding. Be aware that regular call rates will be charged.
Screen sharing. Skype is a terrific collaboration tool and many businesses take advantage of it by holding virtual meetings. You can take this one step further by sharing your screen with other parties you are chatting with. This is a fantastic way to give virtual presentations. To share your screen while in a chat press the plus symbol at the bottom of your screen, or right click, and select Share Screen.
Customer service tool. Using Skype is a convenient way to get in contact with your customers. Ask your website developer to put a Skype button on your website. Be sure to add when you or your employees are available to be contacted.
Add-ons. Skype has solid features but there are a multitude of add-on apps that can make it even better. Some apps allow for closer collaboration, let you broadcast pre-recorded messages, or record video and audio calls. The apps can be downloaded from the Skype Shop.
Skype has many useful features that when utilized allow businesses' clients and employees to communicate with ease. If you would like to know more about using Skype or other VoIP services in your company please give us a call.